Make organic local food accessible to all
Better Food Company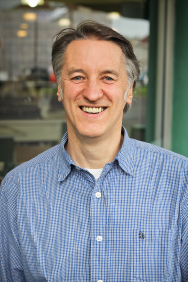 "We are inspired, simply, by a love of real food, and a desire to be part of the solution to global and local crises in farming and health. We believe everyone has the right to good quality, chemical-free, healthy food, and that organic food production is the best way forward, for people and planet"
Phil Haughton, Better Food Company.

The Better Food Company is an award-winning Bristol-based independent retailer of organic local, ethical and fair trade goods. They strive to promote good food and good health.Established over twenty years ago as an organic delivery service, Better Food has since evolved into a retailer, operating two profitable sites in north Bristol; the original shop and café in St Werburghs and the food hall and delicatessen in Clifton. They aspire to offer the best produce, balancing the needs of the farmer and soil with the needs of the customer.
The bond offer
To build on the success of the two existing stores, Better Food plan to grow their presence in Bristol. They're preferred site for their third retail outlet is Wapping Wharf – part of the regeneration of Bristol's historic harbour. The Wapping Wharf waterside area is currently being transformed into a residential, shopping and leisure complex – focused on independent retailers – that connects south Bristol with the Harbourside. The development will include 600 new homes, a 150-bedroom boutique hotel and over 220,000 square feet of local shops, cafés and restaurants. Better Food expects to open the new shop and café in May 2016. The money raised by this bond will fund the fit-out.
Key terms
Issuer
The Better Food Company Limited
Target amount
£350,000
Use
Supporting the opening of a third retail outlet in Wapping Wharf, Bristol
Term
5 years; repayable in full on 31 March 2021
Minimum investment
£2,000
Interest
7% gross per year, fixed and payable (net of UK basic rate tax) annually in arrears on 31 March
Store incentive
Investors will receive a 10% store discount card
Transferability
Bonds are transferable but are not listed on any investment exchange which means they are illiquid
Covenants
A debt service reserve covenant and borrowing covenant exist to protect investor interests
Timetable
29 February 2016 until 1 April 2016 (unless fully subscribed earlier or if the directors, at their sole discretion, decide to extend the offer)
Risk warning
Past performance is not an indication of future performance. Capital is at risk and returns are not guaranteed.
Payment of interest and capital is not guaranteed and is dependent on the continued success of Better Food's business model.
Download the offer document by logging in or registering.
£350,000 of £350,000
0 hour left
100% raised
Tax relief
IFISA eligible