Thera Trust provides essential care, support and services for over 3,000 people with a learning disability, enabling them to live the life they choose. The charity has a strong 22-year history, where it has grown from supporting five people in Cambridgeshire in 1998 to now providing a range of care, support and services across the UK. It has an annual income of over £72 million and works in partnership with 80 local authorities across the country.
Many of the people that Thera supports have complex needs or originally lived in institutional settings before being supported by the charity. Its critical work continued through lockdown with the charity's staff delivering tailored one-to-one support to its beneficiaries during the Covid-19 crisis.
This video showcases how Thera staff worked with their beneficiaries during lockdown to provide some much-needed light relief and support:
https://www.thera.co.uk/news/dont-worry-be-happy/
Thera believes that their beneficiaries are the best placed to decide how their support should be organised. They assist people to check that their care is right for them, help them to find the right place to live, find a job, manage their money and also support their families.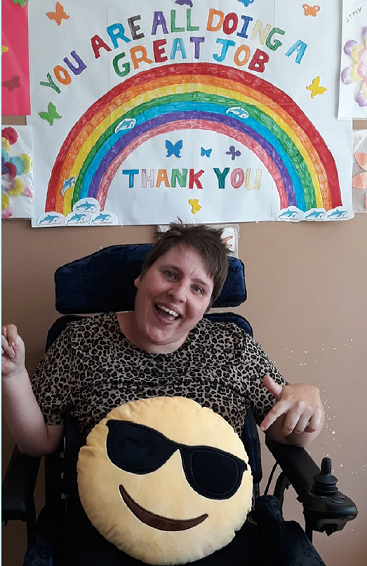 "Our vision is that people with a learning disability can be leaders in society. We seek to demonstrate this through our work – people with a learning disability are at the centre of everything we do"
People supported by Thera take the lead in controlling how the charity works and designing the support on offer. The Thera group currently has 13 paid and 6 voluntary directors with a learning disability.
A key part of Thera Trust's strategy is to provide individually tailored accommodation to people with a learning disability over the next five years, through freehold property purchases and long-term leases.
Glenn's story
Glenn didn't have the option of deciding how he wanted to live until Thera Trust supported him to move into his own home. Not only was the home adapted to ensure that it met his needs (he is partially sighted and needs to be kept safe during his seizures), but Glenn also decorated the new home to his taste, including choosing sparkly copper covered kitchen utensils. In the days following his move, Glenn walked around his house and regularly said to his support team, "It's nice my home, isn't it?"
Simon Conway, joint director of strategy at Thera Trust, explains that:
"The demand for our work, including provision of specially adapted property for people with more complex support needs, continues to be high. We are therefore planning for further investment in additional freehold properties for individuals with a learning disability, which we know, both from independent research and our own experience, has a substantial positive impact in their lives."
The corporate finance team at Triodos Bank first worked with Thera Trust in 2015 to help it raise £2m of investment from impact investors to purchase and adapt properties. We partnered with the charity for a second time in 2018 to raise another £5m and are working with the organisation once again now.
Since 2015, the charity has increased the number of people for whom it has provided a home from 48 to 166 individuals, thanks in part to the support of its crowdfunding investors.
Read more about the terms of Thera Trust's new bond offer here.