We have been raising crowdfunding investment for environmental, cultural and social organisations for over 15 years. During this time, we have spoken to many community-led organisations who don't feel that the social investment market works for them.
The pandemic has made this lack of capital even more pressing and so we've been exploring new ways in which we could support these organisations through our crowdfunding.
One of which is a new partnership with Crowdfunder, the UK's leading reward-based crowdfunding platform. We've designed a mixed package of investment to help organisations raise flexible, long-term capital to bolster their resilience and help them to flourish. This is a combination of different types of money, gift, grants, and crowdfunding debt investment, which when combined provides a flexible and affordable source of capital.
Dan Hird, head of corporate finance at Triodos Bank UK, explains: "These are high impact, well respected, locally led organisations, that do not have business models which suit most of the capital on offer in the social investment market. They need more long-term, more affordable and more flexible capital to deal with unpredictable income streams or the tight profit margins they generate. This has been amplified by Covid-19 and the accompanying economic shock. We believe providing suitable support for these organisations is more important than ever."
The Crowdfunder/Triodos Bank UK programme, which is scheduled to launch this summer, will offer:
-        Long-term flexible debt – raised through the Triodos Crowdfunding platform
-        Reward-based and donation-based funds – raised through the Crowdfunder platform
-        Community shares – raised on both platforms
-        Grant capital provided by Access – The Foundation for Social Investment

In addition to this new mix of capital, Triodos Bank UK is providing investment readiness advice and Crowdfunder is providing market engagement support. This is aimed to support organisations who have little experience and limited capacity to raise capital.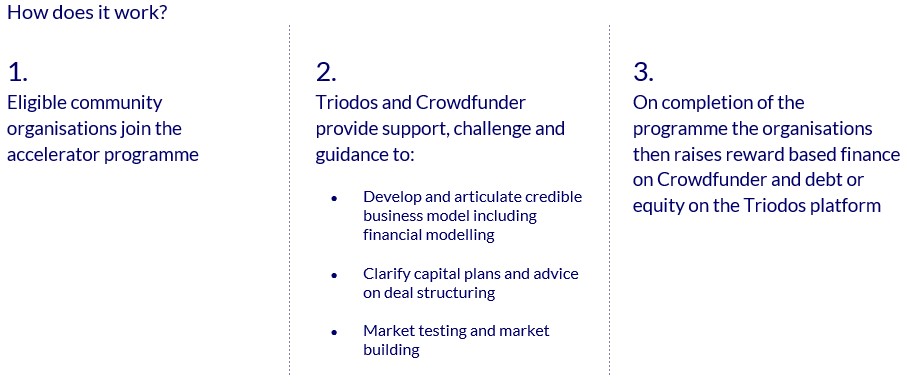 What will this mean for investors? 

his new Crowdfunder/Triodos Bank UK programme will provide a community-led series of investment offers, which will differ from our standard debt (bond) offers. They will:

-        Be longer-term than the majority of our offers at greater than 10 years.

-        Be more affordable for the community organisation at less than 5% interest per year, and
-        Offer more flexibility through less restrictive bond terms than our usual bond offers.
Offers will be clearly identified as "
Community Led
" and "
Part of the Triodos Community Led series
". These organisations will be small, operate in local markets and are likely to have limited resilience to shocks so people should invest no more than they can afford to lose.
We surveyed our Triodos crowdfunding platform registered users in January 2021 to test our investors' appetite for investing in these types of organisations on these terms and we were encouraged by the positive response.
Of those who have previously invested on the platform:
·       49% would be interested in products with a 6-12-year term
·       32% invest primarily for the social or environmental impact
·       49% are interested in investing in community businesses

Our first offer in the series is a pilot for the programme with FC Clacton Community Society
, a locally run community football club with over 40 youth and adult teams. If this offer is successful and is well supported by Triodos investors and Crowdfunder backers, then we will launch the full programme in the next few weeks.
Who is eligible for this type of investment?
We have a number of organisations lined up for the series, but we are looking to work with community led organisations, such as community benefit societies, charities, CIC or not-for-profits that have:
-        Demonstrable, sustainable, business model
-        Quality leadership
-        Credible plans

The programme is designed to be inclusive and will focus on reducing inequality, working in areas of high deprivation, working with underrepresented groups and in areas of high need, for example area lacking in key facilities.

We believe that now is a time for change, for new ideas and for new business models. We want to allow people to support the organisations they want to see thrive and use their capital to create the change they want to see.