The money raised from the crowdfunding bond was transferred to you in January 2021. What was already in place at that time at the site?
Phase 1 of the Community and Activity Village, which included the two 3G full size football turf pitches and the athletics track, as well temporary changing facilities and access to the site, were already finalised. Local sports clubs and community groups have been using these facilities since October 2018 now. The bond, bank loan and capital grants from various funders are contributing towards the development of Phase 2 which is the creation of a 43,000 sf ft multi-purpose, multi-use building which will be used as a focal point for the local community including a conference centre, café, flexible offices and working space, nursery, climbing wall, functional strength and fitness area, treatment suites and much more.
How far along is the construction of this multi-use building?
It's really taking shape now. The building's steel frame is in place, as well as the brick base around its bottom. Cladding is nearly all in place round the building and we are on track to be watertight at the end of October. The ceiling lantern in the conference facility has gone in and the electrical and mechanical services will go in during November.
The building will have a destination climbing wall which will include an Olympic speed climbing wall. The climbing hall is 18 metres high, so rises up above the rest of the building, which is really striking and visible from around the site.
Because the building is so diverse in its offer, every area has been designed with different specifications, which makes this project challenging and very rewarding. Even with all of the inevitable challenges we are still on track for a Spring 2022 opening.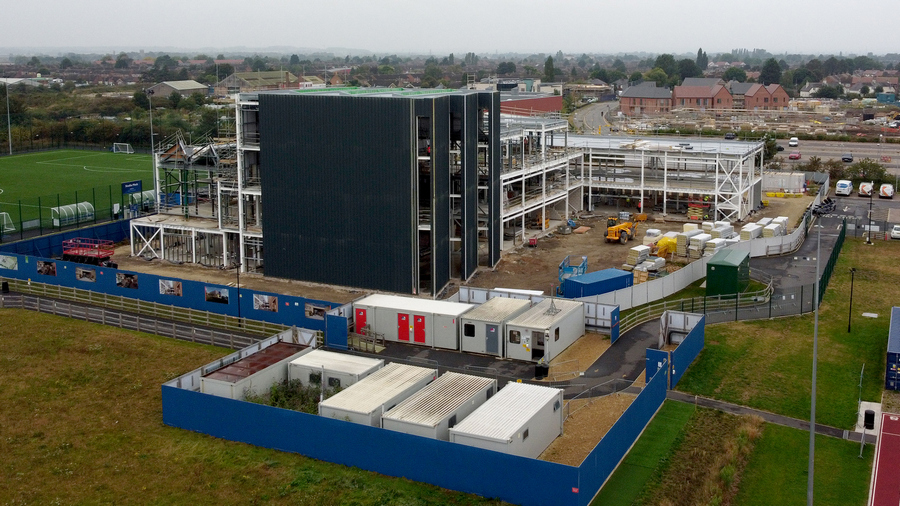 We hear a lot in the press about supply chain issues, labour challenges and delays in construction projects at the moment. How is that affecting your build?
These supply issues are facing everyone in the industry at the moment. The price of materials has increased, such as the cost of wood and metal. We are making adjustments and we have scope to do that as it's such a large project. We want things to be right, we only have one shot at this Community and Activity Village so it's about balancing quality, with timing and cost, and keeping the overall build programme on track.
What has been the biggest challenge so far?
In addition to supply chain issues, it's the fact that the building is complex and multi-faceted in its uses. We are working very closely with all of the service providers whether in-house from the YMCA or external, to ensure that the area of the building they will be using will suit their needs.
The activity centre is also mixed provision between commercial/private sector providers and community users so we must make sure that it works seamlessly for the whole community.
It's important to remember what this project is about. It's about much more than just a building or activity centre. It's about developing a focal point for the local community so that children, young people and their families have access to the services they need to develop so they can belong, contribute and thrive.
What is going well or are you particularly pleased about?
I'm delighted we've hired several local firms to help with some of the interior design work and external landscaping. We are very focused on serving the community and creating local jobs as much as possible so it's great to have them on board to help finalise the design of our reception area, café and conference suite as well as the outside areas around the building.Working with local stakeholders is going really, really well. The project has had the backing of a huge number of local stakeholders from the start, but now that the building is taking shape, the Community and Activity Village is starting to feel more tangible for people. This has translated into renewed interest and enthusiasm for the project from education providers, sports clubs and community groups. Seeing it happen, external stakeholders want to be part of it. We are also really lucky to have such good support from Newark and Sherwood District Council, Balderton Parish Council and Newark Town Council, among others.
What is the next big milestone?
We are planning a 'Topping Out' ceremony on 18 November. That is when the building will be watertight. After that, we will focus on all of the interior work and fitting out so that we are ready to open in Spring 2022.